Project
The specific request was to have very important furnishing, based on pieces with a predominant Baroque style.
Beds, wardrobes, vanity units, showcases, mirrors, doors and other pieces of furniture in this style were then realized for this project, most of them were custom made, while some were taken from standard Collections.
It has proved to be a quite challenging project because, as the creation of new proportioned and nice carvings is not really easy, we should carry out a meticulous study of the proportions of the carvings proportioned to the whole piece of furniture. In usual procedure, we normally produce a prototype which could be reworked and reviewed, but when you work on a project, the time required, to follow certain steps in the actualisation of the final product, is often lacking, and therefore, the fast realization of a product, with elaborate carvings that should be fine, stylish and proportioned at the same time, is not an easy matter.
It is evident that the process to elaborate a minimal and linear custom made product is a simple thing, but quite another thing is create a piece of furniture richly carved, beautiful and proportioned at the same time, this takes a lot of commitment and professionality.
The end result was much appreciated by the final customer, confirming once more that we have no limits in realizing amazing items, and proving as well that we are every time able to satisfy with the best end results the most different and exigent requests of our customers
Products
Double bed with carved wooden details totally custom made, with in a dark walnut colour combined with antique gold leaf DF finish, but on request available in Polychrome finish too.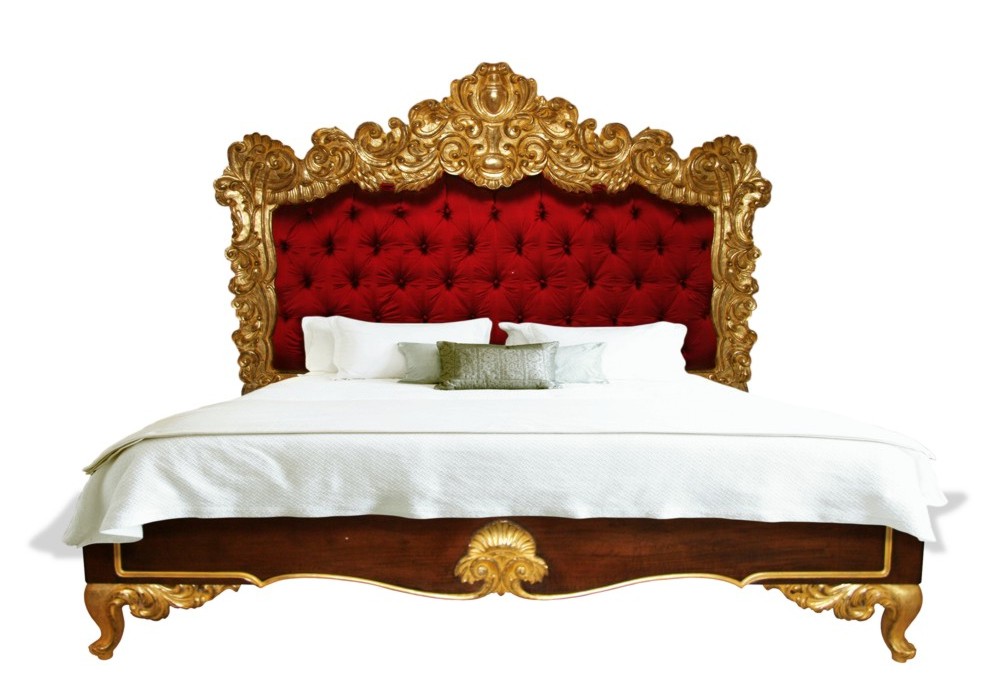 Night- tables in carved wood in antique gold leaf finish with drawer

Mirrors in carved wood with in antique gold leaf finish.
Custom made wardrobe in solid oak in a dark walnut coloured finish, with carved details in antique gold leaf
Custom made mirror in solid oak in a dark walnut coloured finish, with carved details in antique gold leaf
Double vanity unit in carved wood in antique gold leaf finish with matching mirror
Custom made showcase in carved wood in antique gold leaf finish
Custom made doors in solid wood, oak