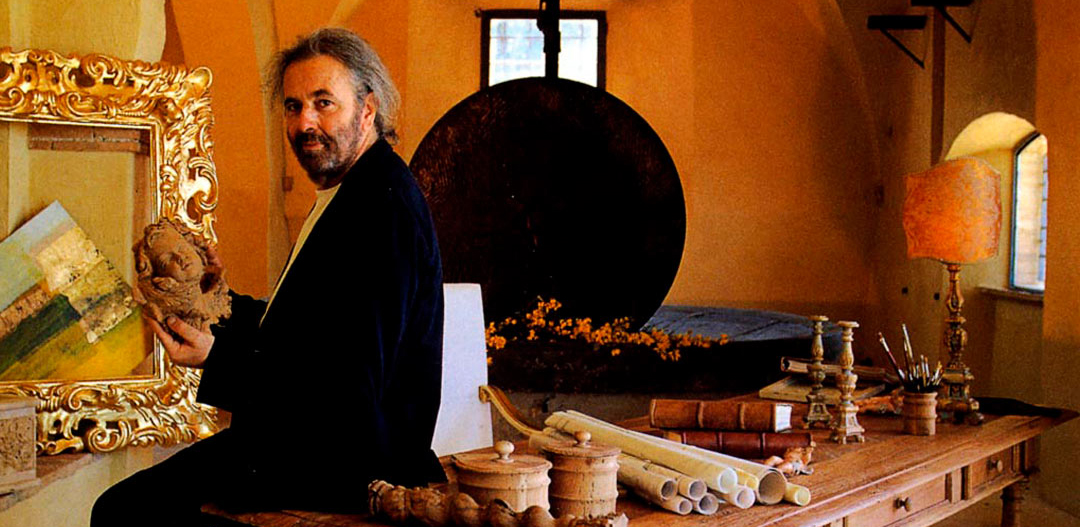 Sergio Bianchini Designer and AD Bianchini & Capponi
Born in Arezzo, renowned Tuscany town for its history of art and for the many masterpieces exhisting on the territory, made by eminent artists such as Piero della Francesca, Vasari, Michelangelo, Della Robbia, Cimabue, etc.
In this context, Sergio Bianchini refines his talent as art estimator and 'savoir-faire', and exploits his love for beautiful items professionally too, creating in the late 70's a craft company, which was producing items and furniture for home interiors.
At the beginning of the 80's, his intuition and creativity led him to become one of the main protagonists in the development of innovative furnishing trends, above all focusing on bathroom furnishings. At that time, bathroom was still considered an aesthetic low value's space. Sergio Bianchini was one of the first, if not the first, believing that the bathroom was, and would have become more and more, a very important room inside each home. Consequently he successfully decided to propose a new bathroom furniture collection, with a style full of personality and sensations, combined with the use of high quality materials, such as solid wood and antique wood: a collection clearly different from what was normally available at that time, represented mainly by industrial and anonymous products. Intuition and creativity which led to a new bathroom furniture proposal made by vanity units and furnishing complements with a traditional, but infinitely innovative design, compared to what was the concept in that period.
Again his intuition by proposing bathroom furniture by reinterpreting original masterpieces of the 'Renaissance period', or create fresh and mediterranean finishes right for the 'Mediterranea' collection, or conceive furniture and minimalist consoles, made precious by the use of leather coverings, or, always talking about contemporary style, propose furniture in reclaimed wood, finished with soft and transparent shades, permitting to preserve the beauty and characteristic of real wood, offered with the 'Materia' and 'Materia Multicolor' collections. And again Bianchini's idea has been the luxurious and elaborate bathroom consoles collection, realized in real crystal, for which Bianchini & Capponi is the only manufacturer in the world. To get such products, which are the "savoir-faire" and craftsmanship's expression, and consequently the excellence of the Made in Italy too, the use of high process technologies is basic, in order to get competitive prices and high quality at the same time.
In recent times, he had designed home-living dedicated products too, custom-made or realized on customer's design, offering in this way items with priceless value and beauty, focusing by consequence on a VIP and professionals clientele, always in search of beautiful and unique productions.
Paolo Caponi Designer and Art Director
Born in Arezzo, great connoisseur of art and antiques, since he was young, he was passionate both in photography and art, creating precious works of paitings and graphics with innovative techniques, really valuable and with a unique and unmistakable style, own characteristic of true artists and creatives.
He is endowed with a natural creativity and dexterity, and this talent allows him to successfully carry out his passion for sculpture too. He is very eclectic, and his sensitivity for art, sometimes leads him to mix his 3 passions, photos, paitings and sculptures, for creating really unique masterpieces.
He is very eclectic, and his sensitivity for art, sometimes leads him to mix his 3 passions, photos, paitings and sculptures, for creating really unique masterpieces.
Since the late 70's, he participated to important exhibitions in Italy and abroad, and his works are often displayed in important art galleries and even museums. Over the years, his close friendship and harmony with Sergio Bianchini gives life to a fruitful collaboration in the creation of objects and furniture of the Bianchini & Capponi Collections. Together they plan, study, design and engineer their creations. The attention to detail is for both a natural gift: nothing is left to chance, everything is designed, taking care of any possible detail.