Project
The client's request involved the creation of bathroom spaces within a spa complex, specifically requiring the use of natural materials such as wood, with minimalistic style.
A new concept was then needed in order to create a warm, personal environment without reverting to the usual types of materials used for minimalistic design furniture.
We suggested then a newer, more trendy material, the reclaimed wood, obviously considering the steamy, humid atmosphere of the space. The results of the approved and successful project are evident in these images; however, to appreciate the full impact, it would really need to be seen in person.
To create customized spaces with their own features and personality, different types of finish were used: natural, distressed white and Multicolor. We have been using this material for 5 years now, but the original idea came about well before, towards the end of the 90s with the Etnica collection. Etnica products were innovative creations that used the natural beauty and distinctiveness of wood, with knots and veins and sometimes even cracked. They brought out the simple, natural beauty of the material in contrast to the bland, anonymous MDF products that were the norm. The theme was taken up again afterwards with the Materia collection, which also focusses on the natural beauty of wood, the essence of the Materia in fact.
In 2014 on occasion of the Milan show, Salone del Bagno, a very important biennial event held in parallel with another important show as the furniture show, Salone del Mobile, we further expanded our range by offering a new and fresh variation on the theme: the Materia Multicolor range, consisting of bath consoles, vanity units, chests of drawers, mirrors, etagere units and wall covering, all made in reclaimed wood, fir, in natural, distressed white or in Multicolor finish. This last, lending its name to the range, represents the most innovative proposal.
Of course, all items are also available custom made, as the design is simply and easily customizable in size as well as finish.
We would like to emphasize that our company was founded in 1970 as a furniture manufacturer, and over the years we have come to specialise in the bathroom sector, perfecting the techniques of using wood in humid spaces, like the bathroom, an essential detail to be considered in addition to the beauty of each item we produce. This is a very important explanation to understand that not every furniture manufacturer can successfully change into a bathroom furniture manufacturer, as normally the techniques involved in using wood in humid environments can only be gained through many years of experience.
Products
Wall Mounted Bath Console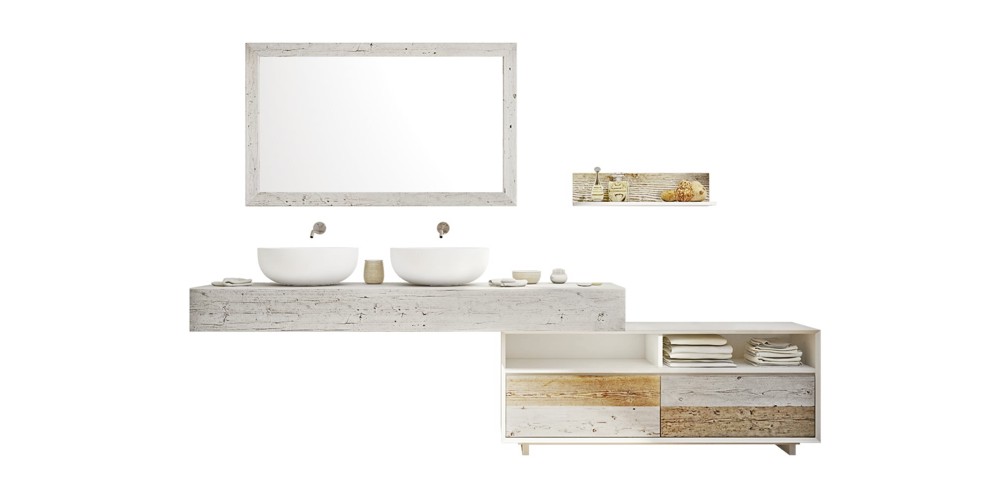 Vanity Unit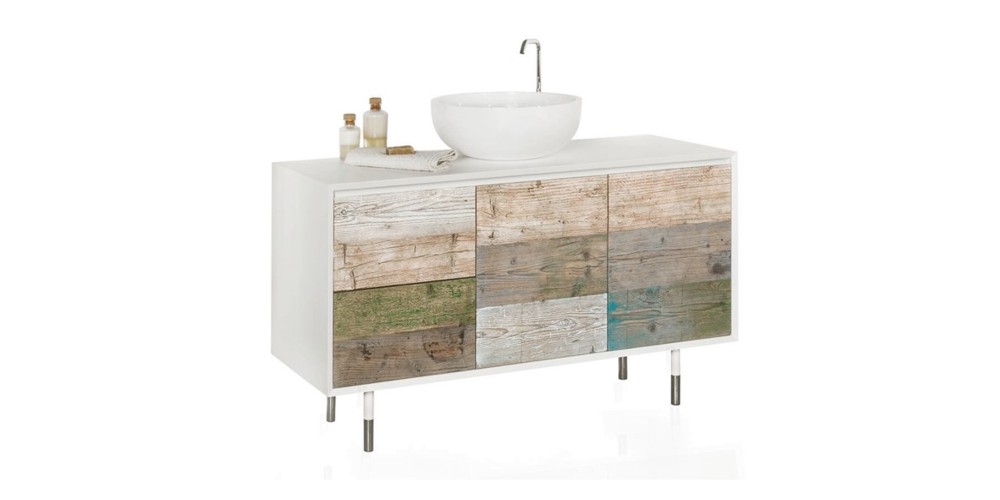 Wash Basins In Stonelight
Chests Of Drawers

Mirrors
Shelves
Bench
Doors
Flooring
Wall Covering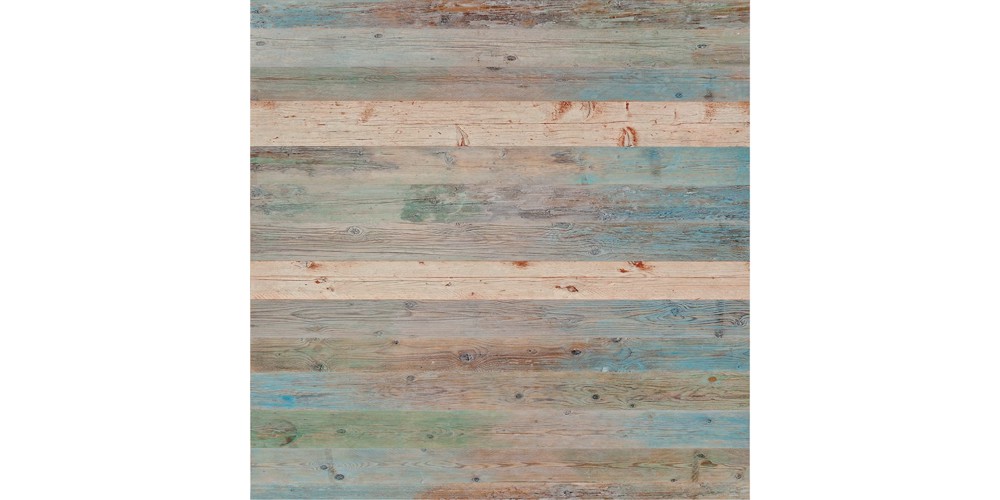 Bathroom Accessories
Clothes Racks
Etagere-unit